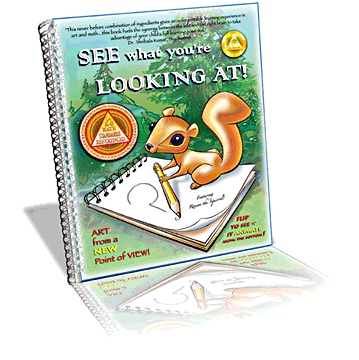 SEE WHAT YOU'RE LOOKING AT reveals the secrets of how children (and adults) can learn to draw!
SPECIAL OFFER!
LIMITED TIME ONLY until our next printing:
Get a FREE download of my Art Book with any donation!(A $9.99 Value)

After donating you will be automatically redirected to download the file you may view and print from your own computer. You can print it as many times as you need for personal educational purposes only. 
PLEASE TELL YOUR FRIENDS!  Emmy Award winning author and illustrator Ruth Elliott has packed over 30 years of experience in drawing into one amazing book. What makes this art textbook unique? She has distilled what she knows into simple language that anyone can understand, in step-by-step lessons that build on the previous one, to discover new skills in 'seeing' what you're looking at. Including tips on everything from how to hold your pencil to how animation works, plus a bonus section with art games.
For a limited time only, Get a FREE download with any donation!
Kids and Parents need all the help they can get.
EDU DESIGNS and GoMommyGO® are there to help, providing materials for parents and teachers who can't afford them.  We need YOUR help to do that!
THANK YOU!