Thanks to Mindi for suggesting I add a picture of "clean your room", to GoMommyGO's free illustrated behavior charts.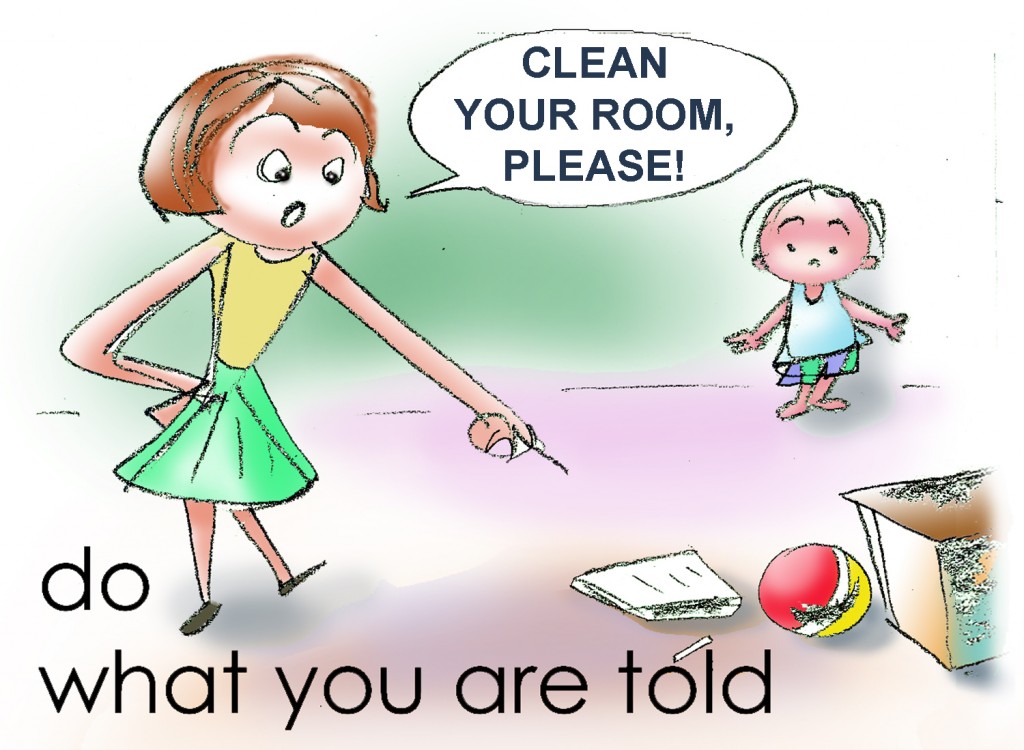 The simple command, "Clean Your Room" might have been enough for some kids, but it wasn't for mine!
Many get overwhelmed by the sheer enormity of the task and need it broken up into smaller pieces, so they get a chance to learn a method of tackling the job and also feel a sense of accomplishment from each part. This can become part of their regular routine each day.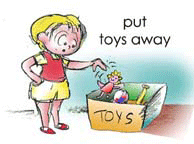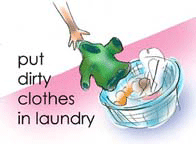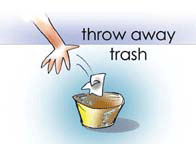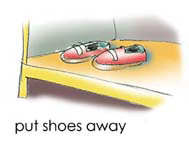 ---
WHEN YOUR CHILD'S room is a DISASTER:
With my 7 kid's, their room could quickly become a giant pile of rubble. I thought of the CTT method here, to help them clean the room in 15 minutes. 
Here is how it works:
C– stands for Clothes
T– stands for Toys
T– stands for Trash
C– First pick up all CLOTHES you find – quickly – in less than 5 minutes!

T– Then pick up all TOYS (and put in toy box) – in less than 5 minutes!

T– Then pick up all the TRASH left – in less than 5 minutes!

Be the CHEERLEADER!

ACT LIKE IT'S A GAME! Let them know that you will assist in directing the process, and TIME them doing it. Since this is a bigger job than mere stickers will reward, Let them know this will be a fun event that will have a bigger reward (like going out for an ice cream cone or a trip to the 99Cent store to pick out a treat for themselves afterwards). If you cannot go out, then perhaps offer a special dessert or something you know they love as a reward. To get the child started out picking up the clothes:

(#1) YOU START the game, and show them how to toss the first couple of clothes into a pile as fast as possible! Once you've shown them, then let THEM do it.

Do the same with the Toys (#2) and Trash(#3).

This is a quick way to get the bulk of the work done and conquer the hardest part. The details will be easier after that!
---
I heard another GREAT idea invented by a lady whose son was autistic.
She helped him organize his room till it was just the way he liked it, then took a snapshot of the whole thing.
She printed up the photo, had it framed, and put it on the dresser. 
It was used as a model to follow how his room should look the next time he had to clean it!
Her son actually got so detailed in following the photo, that when his little action figure of a scuba diver was shown in the picture with one flipper off, he always made sure he took one off, to match the photo!
I think this is a brilliant idea, and one I wish I had thought of! 

We never outgrow our need for positive media and educational resources to lift us up.
You wouldn't be reading this if you didn't feel the same way. 
Thank you for caring! I am so grateful for you!
Will you donate a little to help us?
Your gift provides educational support for schools.
$5 can provide drawing materials for a needy student.
$10 will allow a child to attend an online class. Please give what you can.
Please give, by clicking the Big yellow button, below.
Your receipt is tax deductible, too!
THANK YOU FOR HELPING!