Isn't it true? Life either makes you Bitter or Better.
From a crucible of unimaginable suffering came one survivor -
Antwone Fisher*. Yes - the actual man the movie was made about (the one directed by and starring Denzel Washington).
I had the pleasure of meeting Antwone tonight at Vroman's, signing his latest book:
"A Boy Should Know How To Tie A Tie (and other Lessons for Succeeding in Life)"
What a gift he gives to the young people of the world! The advice he never got from the dad he never had. Brimming with insight, his suffering has not been in vain.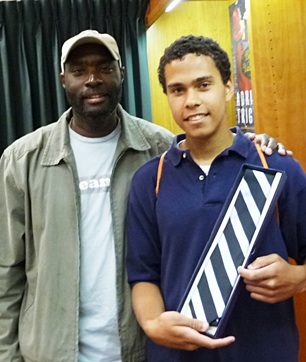 Antwone Fisher and Marcus with the TIE he won ...
They held a raffle for a gorgeous tie tonight! Antwone reached in and picked out the winning ticket - and as fate would have it, a young student, Marcus, got it! I'm so glad he won - he was so happy!
*Do you know about Antwone? Have you seen the movie? If not, this is one you MUST. Every time I see a copy I get an extra one to loan out. Run out and rent it! Better yet - BUY it - you'll be glad you did! (Note: It's NOT for younger kids. Rated PG 13 for violence, language and involving child abuse)