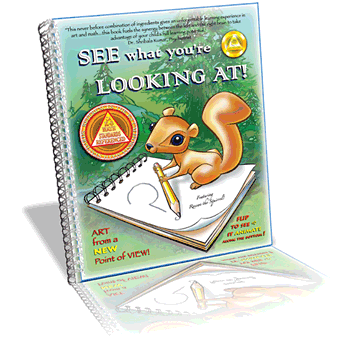 | | + | |
| --- | --- | --- |
*The 4th Edition includes BONUS CONTENT from our Drawing WORKBOOK (a $9.99 value incorporated into the new addition) - PLUS additional information on Writing and Storyboarding your own stories!
It's like getting 2 books for the price of one!
A 39.95 value only $29.95!
8.5" X 11"Spiral Bound Textbook opens flat for easy study
(Free Shipping to the Continental US only)
NOW in it's newly printed, expanded*
and updated FOURTH EDITION!
SEE WHAT YOU'RE LOOKING AT!
The idea was simple: to start at the foundation of perception to analyze how we utilize our hands to capture what our eyes see. This is the logic used in the new Art textbook for children, called SEE WHAT YOU'RE LOOKING AT!
An indispensable Art resource for educators, it represents over 25 years of research and analysis. In SEE WHAT YOU'RE LOOKING AT! the California Math Standards are referenced throughout the book to enable children to coordinate their understanding of Art with Mathematics. By tapping into a child's spatial intelligence he or she learns to truly do what the book says, and "SEE WHAT YOU'RE LOOKING AT!"! Click 'Add to Cart' below to order the printed version ONLY of the Book
WAIT! Before you order, check out this Special OFFER by clicking the button below!


For a limited time only: Get the Printed version AND the Digital PDF-book together for the SAME price as the Printed Version alone!
(Free Shipping to the Continental US only)