Help children develop
character and get a special gift for yourself!
Sign up for my newsletter & get instant access to preview our videos -

FREE!

I know you care about investing in CHARACTER as well as INTELLIGENCE. You want to give children more of what really matters. WE DO TOO!

KIDS NEED US!
For our FREE ART PRESENTATIONS...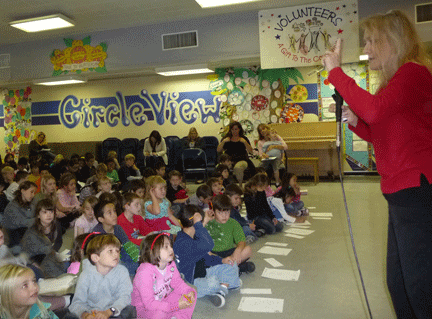 Whether you buy a book for a child you know, or make a donation, it helps us provide our materials FREE to schools that need them, along with tools for better behavior. Find out more here

Recently a teacher contacted me, saying:

"I would love love love to have you come to my school. I am so bummed that I don't teach more art…I totally agree with your mission. We need more ART!!!"

We were able to do the art presentation to four 3rd grade classrooms, plus donate books and materials to 30 teachers because of generous donors like you!

| | |
| --- | --- |
| PLEASE DONATE TODAY by clicking the button on the right. You don't need a Paypal account to donate through their secure site. THANK YOU! | |
KIDS NEED US - For our Art and Story Materials:
"We received the parcel. This was a huge and wonderful surprise. I am so amazed.
It is wonderful, simply wonderful. I am thankful for the stories, and appreciate your thoughts on sending this.... enjoyed the art book. I love the title. It works for much of life."
~Ashley

See What You're LOOKING At!

"The need for what you're offering is growing stronger by the day, the schools are in crisis, seemingly everywhere. Ashley's been running the art program for our home school co-op... She says she uses the books extensively - in fact it's the primary, and in some cases, exclusive teaching material she uses.
Bless you guys for what you're doing." ~ Justin
KIDS NEED US - For our Character Building Stories:
"The stories are very traditional yet fresh, original and unique.
I'm still thinking of the many lessons each contains."
~ Anastasia Kalivas
"...Thank you for the materials... I liked the one about the seed [Little Blossom] because it also ties into the science curriculum. I work with ESL students and the text has to be simple for me to use it with my kids." ~Julie Lupson, NY, K-5 Elementary school teacher and member of the character education committee

"It echoes every Parents' cry... the Story reminds me of the blessings that we all take for granted.
~ Barry Cook, Co-Director, Disney's MULAN

"... I like the honesty of The Richest Kid in the Poor House. The children in the story portrayed real qualities, and were guided and corrected in a real way.

The Night Princess

...The same with The Night Princess: the "lessons" in these books are something valuable to all of us.You seem to have a real handle on how to "entertain" children through books, yet there is a deeper message that speaks to them. I would just hope that you keep up your creative process and keep offering up quality books with good messages for our children."
~ Christine Barry, Librarian at Sun View Elementary
"Thank you for the excellent lesson you presented to my third grade students. They thoroughly enjoyed what they learned. It was thrilling to see my students getting excited about art, and using their creativity in their drawings. Learning about 3D shapes has been very helpful in math. Teaching them to show people's emotions through their eyes has helped them illustrate their writing more accurately. They also enjoyed watching the movies you created. They are reading the book-version of the movie The Night Princess. The books are constantly being checked out of my classroom library. You really succeeded in showing my students the possibilities and joys that art brings. Thanks again ..." ~Jennifer Carrillo, 3rd Grade Teacher, Rio Hondo School
If you haven't already signed up for my newsletter, do it now & get instant acccess to preview our videos - FREE!
Social Workers, psychologists and parents need us too!
Our materials are helping children control their behavior in a positive way.
4-

For our BEHAVIOR CHARTS and Cards from GoMommyGO

TM
Thank you so much for your free picture behavior charts! I am a LMHC and they have been so helpful.
~Devorah

"I am a Center Director and was searching the Web for some information to do a training on "Ditch the Switch" for Head Start Parents. I came across your Site and it was great! I was able to download some of the behavior charts and will share your link to Parents at the Training. Thanks" ~ Wanda Young
"I am a teacher in a head start program in Tuscaloosa, Al., children ages 3-5yrs. Most of these children have behavior issues and are being put on time out constantly but none of that seemed to work. I really want to make a difference in their lives. After listening to you speak on TV today, I decided to get to your website. I will love to use your material in my classroom to help these children. In fact, I believe most of the teachers can do great using the positive re-enforcement. Thanks for all you do. God bless you!"
~Mrs. Appiah-Opoku

Portable Behavior Cards
"Thank you for the resources on your website! I have been looking everywhere for a behavior chart my 3 year old can read! Lovely pictures! Thank you again!" ~Adeah
"Thank you so much - this is an awesome resource!" ~Rachel Wayman
We are investing in what is truly valuable: children! You are needed, too. Whether you buy a book or DONATE funds, it helps US help OTHERS!
Edu Designs makes careful use of your support! We don't use a single cent of your gifts for salaries – 100% goes to programs to help children.


You don't need a Paypal account
to use Paypal to pay with!
When you donate today, we'll send YOU a handy PORTABLE Laminated BEHAVIOR CARD courtesy of GoMommyGO®

The portable laminated behavior card is used for positive reinforcement in combination with the home chart when parents or caregivers are out with their children. Used by parents, social workers, Special Ed teachers, preschools and caregivers. They are great for sharing with parents or grandparents, to help instill manners in the young ones you know!
Front Back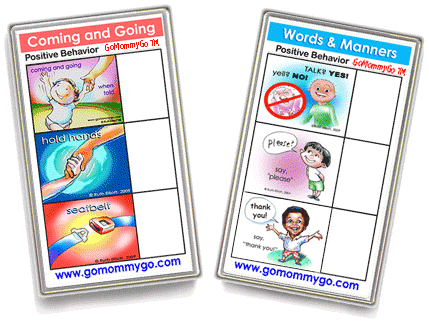 These positive behaviors are reinforced on the card:
Side 1

POSITIVE BEHAVIORS on "Coming and Going":
1- Come when you are called- without a fuss!
2- Hold hands to stay safe
3- Keep your seat belt on at all times in the car

Side 2

POSITIVE BEHAVIORS on "Words and Manners":
1- No screams or yells - use WORDS instead
(Say, "I can't understand what you say if you yell. Use WORDS instead.")
2- Say "Please"
(be polite, don't whine!)
3- Say "Thank You"
(be grateful!)
Here's how to use the PORTABLE Laminated BEHAVIOR CARD


from GoMommyGO

TM
When you catch your child being GOOD, let them know you NOTICE!
1- The Portable business card-size chart is for using out of the home - in the car, on your way, or where you want kids to remember how to behave!
Make a check mark (or their initials) on the laminated card with a Dri-Erase marker on the box next to the good behavior to show they know how to behave in public.
2- THEN, when you get HOME, place a sticker next to the BONUS GOOD MARK section of their BIG behavior chart like it shows on the sample below. YOUR BIG behavior charts are available FREE to print up (for your personal use only) fromGoMommyGOTM © Ruth Elliott, 2010)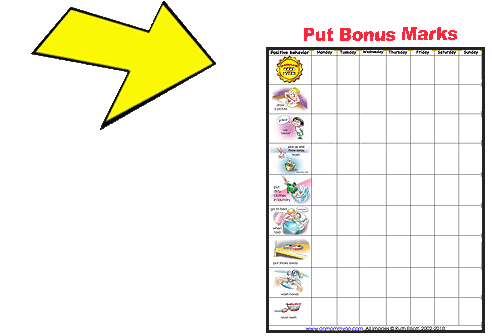 PLUS - So many of you responded to our newsletter about the four BUILDING BLOCKS of CHARACTER that we created special cards for children to remember them by!
SO! ACT NOW! As our thank you for your donation of any size, YOU get an additional SPECIAL GIFT - a set of 4 Laminated cards representing the four 'BUILDING BLOCKS OF CHARACTER':
"ASK, THANK, APOLOGIZE and FORGIVE"
Back view of cards Front view of cards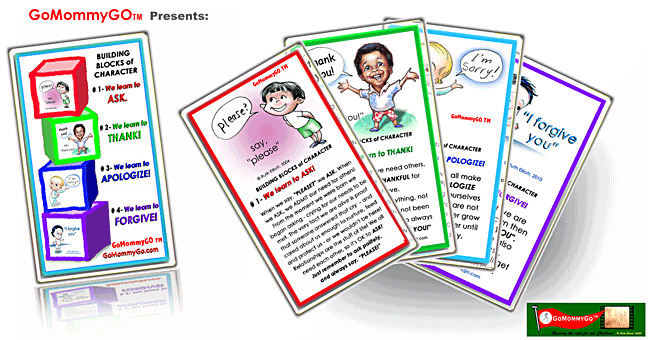 click image to see what they look like up close!
Donate NOW to receive all these free gifts!
The four 'BUILDING BLOCKS OF CHARACTER' cards plus the PORTABLE Laminated BEHAVIOR CARD will be sent to you for your donation of any amount.
No gift is too small ! Please Donate what you can!

PLUS - A Special BONUS Opportunity!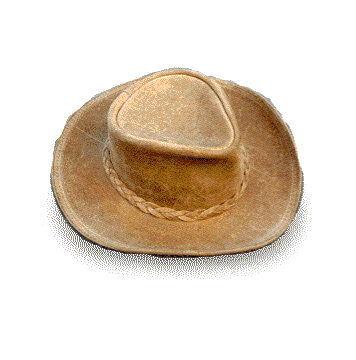 Support us monthly with a small donation that makes a BIG difference!
As a SPECIAL BONUS, you'll get a Complimentary copy of

"SEE WHAT YOU'RE LOOKING AT!"

(the first Art Textbook book to reference the California Math Standards!)

When you sign up to be a monthly donor you will immediately be directed to the instant download page - where you will be instructed to download your complimentary copy of the groundbreaking book by Ruth Elliott!

Learn how to draw anything you can see or imagine...

A wealth of ideas to draw from...

Simple to understand for the beginner or advanced student...

The PDF File includes ALL 122 pages of the book!

Print it up as many times as needed!

Even share it with your school (for personal or educational purposes, only, of course!)


Choose your option below and then click the 'Monthly Giving' button: Thank you so much!

With donors like you, we will reach more children!
Cancel monthly giving at any time by clicking on the'Cancel' button:


Edu Designs is a CA Non Profit 501 (c) 3 Corporation. All donations are Tax Deductible as allowed by law. Tax ID # 26-1576531
Edu Designs makes careful use of your support! We don't use a single cent of your gifts for salaries – 100% goes to programs to help children.