Whether you buy a book for a child you know, or make a donation, it helps us provide our materials to schools that need them.
One teacher contacted us, saying:
 "I would love love, love, to have you come to my school. I am so bummed that I don't teach more art… I totally agree with your mission. We need more ART!!!"
---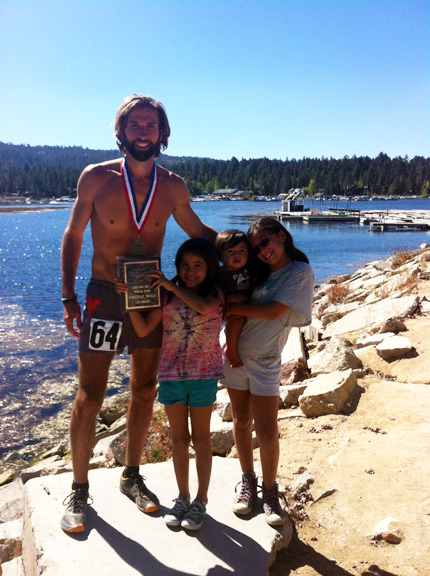 Devoted husband and father, Chris Zurbuch ran a 100 Mile race to raise funds for EDU DESIGNS:
"I feel it is very important for our youth of today to have some sort of Creative arts and Books in all forms which are crucial to shaping Children's enrichment in their overall education. EDU Designs is a wonderful non-profit organization that does just that for many less fortunate children. Every little bit helps to create a positive culture of growth and learning so these children can have some of the same opportunities as others to utilize their talents specifically in the arts…I have wanted to use my love of running into helping kids gain additional resources whether, food, housing or in this case, education."
---
"The need for what you're offering is growing stronger by the day, the schools are in crisis, seemingly everywhere. Ashley's been running the art program for our home school co-op… She uses the books extensively – in fact it's the primary, and in some cases, exclusive teaching material she uses.
Bless you guys for what you're doing."  ~ Justin
---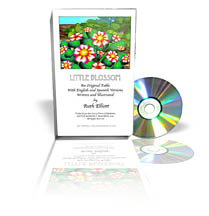 "…Thank you for the materials… I liked the one about the seed [Little Blossom] because it also ties into the science curriculum. I work with ESL students and the text has to be simple for me to use it with my kids." ~Julie Lupson, NY, K-5 Elementary school teacher and member of the character education committee
< < < <    Click the Book to watch the VIDEO of LITTLE BLOSSOM
---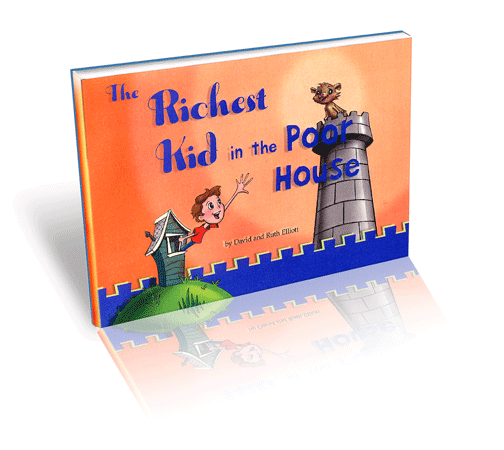 "It echoes every Parents' cry… the Story reminds me of the blessings that we all take for granted.
~ Barry Cook, Co-Director, Disney's MULAN
"… I like the honesty of The Richest Kid in the Poor House. The children in the story portrayed real qualities, and were guided and corrected in a real way.
---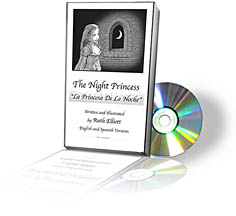 …The same with The Night Princess: the "lessons" in these books are something valuable to all of us.You seem to have a real handle on how to "entertain" children through books, yet there is a deeper message that speaks to them. I would just hope that you keep up your creative process and keep offering up quality books with good messages for our children."
~ Christine Barry, Librarian at Sun View Elementary               > > > Click the pic to SEE the VIDEO!
---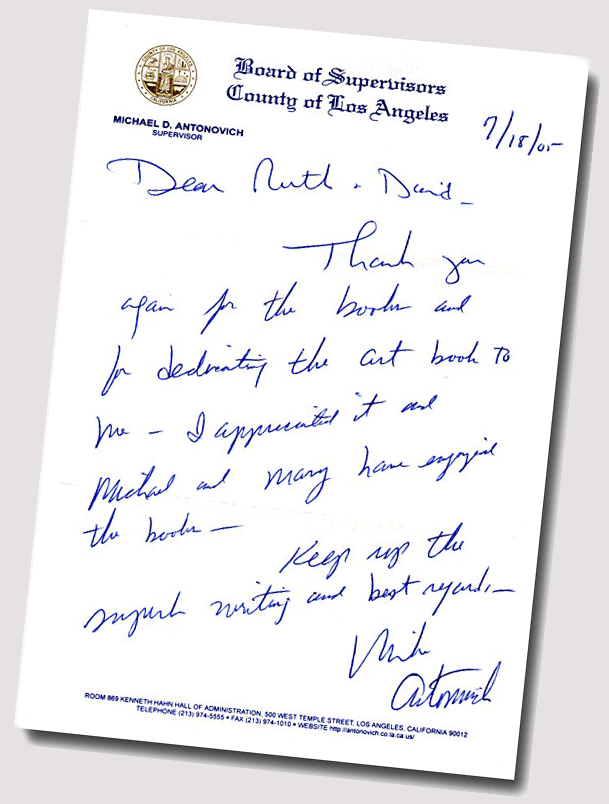 Supervisor Michael Antonovich honored by Book Dedication
See What You're Looking At was the First Art Textbook to reference the CA Math Standards in California. That First Edition was dedicated to Michael's tireless efforts to support the Arts and Education by Ruth Elliott, Director and co-founder of Edu Designs.

Mike Antonovich receiving the Art Book
Dedicated to him.

---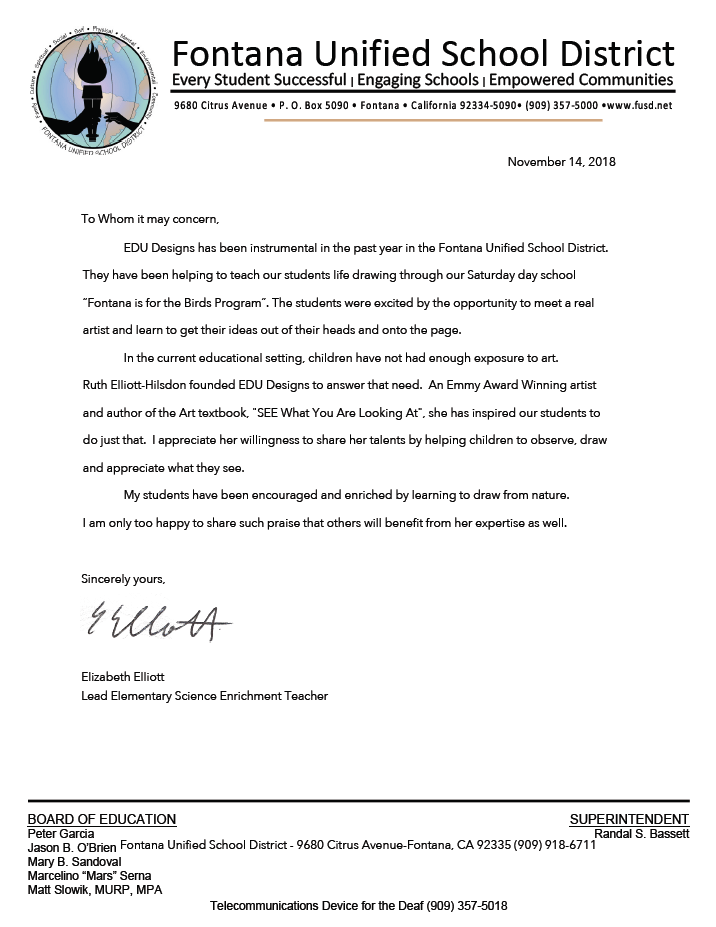 ---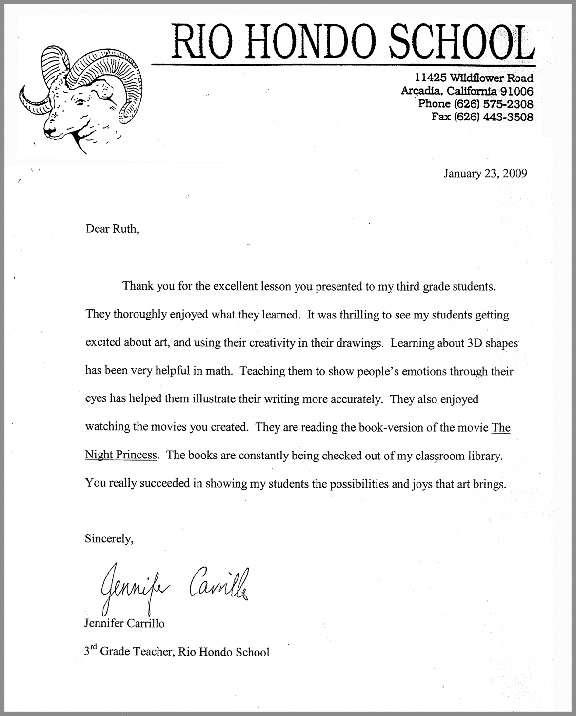 "Thank you for the excellent lesson you presented to my third grade students. They thoroughly enjoyed what they learned. It was thrilling to see my students getting excited about art, and using their creativity in their drawings. Learning about 3D shapes has been very helpful in math. Teaching them to show people's emotions through their eyes has helped them illustrate their writing more accurately. They also enjoyed watching the movies you created. They are reading the book-version of the movie The Night Princess. The books are constantly being checked out of my classroom library.
You really succeeded in showing my students the possibilities and joys that art brings. Thanks again for a great presentation. My students had fun remembering the lesson!" Sincerely,
~Jennifer Carrillo, 3rd Grade Teacher, Rio Hondo School
---
Comments from our visit to Los Amigos Elementary, where 650 children enjoyed having ART back in school! The children cheered after seeing the videos that teach valuable character lessons. They were empowered to continue their education by the materials donated by Edu Designs.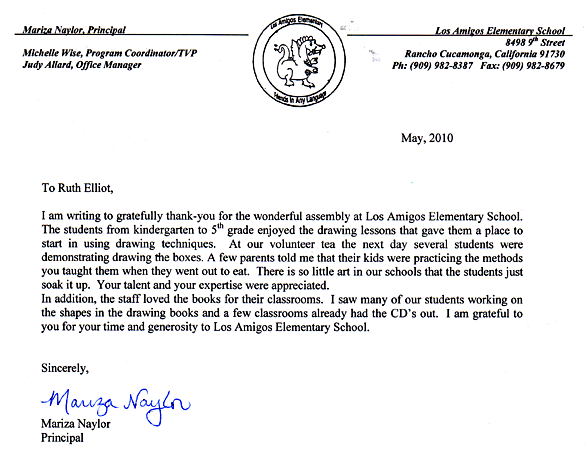 ---
THE RICHEST KID IN THE POOR HOUSE was featured in the Huntington Beach newspaper after the Author's festival. Thank you Kent Treptow of the LA Times for the fine photo!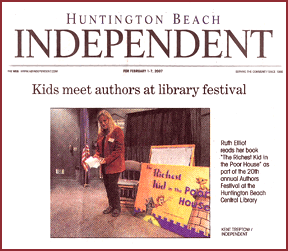 ---
"The children truly enjoyed your presentation and especially when you gave them the tools on how to draw faces and characters with expression. Not only were they telling their parents what a great time they had and what they were able to draw on their own. Each child's face lit up with excitement when they walked through the step by step drawing technique with their parent's and showed off their drawing.
Not only did they enjoy your drawing presentation, but also your reading to them and the slides of pictures that went along with your reading. When I asked them would they like for you to return, they all hollered 'YES!' with excitement. My students sincerely enjoyed your presentation. Thank you;
~Site Manager Mrs. Roanhorse, Village Extended After School Program/ Bradoaks Elementary
(Before our visit Kathi Vogel wrote): … I am so excited that I got your names for Author's Day this year because I love your book and the message it sends. I've heard wonderful things about your presentation and I think our students will benefit greatly from all you have to say. I look forward to working with you."
(After the visit she wrote):
"We enjoyed your visit to St. Bonaventure School SO MUCH! … You really inspired the students at Author's Day. Thank you again for everything."
~ Kathi Vogel, librarian at St. Bonaventure School in Huntington Beach
"You seem to have a real feel for how to infuse "whimsey" into a character!
I asked my students about your questions. Here was their response:
1- What they remember about what they learned? That eyes convey feeling, and angles of the eyes are what show expression.
2- What their favorite thing was about our visit? Drawing, watching your video…"
~Judy Mische, teacher at St. Bonaventure Elem.
"Thank you so much for coming to St. Bonaventure for authors' day. My
students enjoyed your presentation. They remembered the eyes as the
language of emotion, and liked learning how to draw them in the dark
as well. The movement and the baby were also hits. They said that
their favorite thing was getting to watch both movies. They would
like to learn how to portray details in their drawings, bodies, hands
and feet, mouth and hair. Some wanted to learn to draw animals and
they all wanted to know the end of the movies. Thanks again for your
visit. I think you will be hearing from some of my students! God bless."
~Mrs. Jakubowski (Jake)
"… your presentation was a success. While I was there the kids seemed to be engaged and having fun. I love art. Kids do too. I really appreciate you taking the time to come out and present to the students. It is clear that you love what you do because you share it with such joy.
Thank you again…!
~Patrick Garcia, Dir. of After school Programs
The kids and staff members loved the assembly. Thank you so much for providing it for us. I asked the teachers to give me input, and they all had nothing but good
things to say. There was no "room for improvement." :o) They all said
the kids had a great time, and are looking forward to continuing to write,
read and draw.
~Natalie Tee Gaither
"You graciously offered to do a little free art program for the children here at Little Flower Missionary House. I was SO impressed with your various web sites! When I told ourAdministrator, Sister Caridad, about you and your husband doing this program and that you are spending your `retirement' in doing this kind of
thing for children she said, "how beautiful." … they,
and all of us are very excited about this opportunity."
~Sister Dolorosa, Little flower Missionary House
"… thank you for sharing the good work your organization is doing. I watched the videos … and was impressed with the production"
~Bill Beebe, President, Monrovia Arts Festival Association
"Thank you again…It was so wonderful getting to know you … and hearing about your exciting projects. Congratulations on making such commendable work your passion!"
~Amanda Navar, Director of Development, Levitt Pavilion Pasadena
---
Comments  on The BOOKS and Videos
"I believe the See What You're Looking At book and DVD offer a unique and innovative perspective upon the instruction of Art and Mathematics… I commend you for creating a textbook that is truly a paradigm shift away from traditional art curriculum materials.
… I see particular value in the text's references to the Mathematics Standards. Many continuation high school students have difficulty passing the California High School Exit Examination (CAHSEE). More than half of the mathematics portion of the CAHSEE is drawn from middle school standards. Completion of an art class using See What You're Looking At would necessarily re-introduce students to most of the math skills they will need to pass the CAHSEE. The material is so naturally included in the art instruction that students would be impressed with the relevance of the math content, and thus more likely to become engaged in the art and math curriculum contained in the book.
Again, I commend you for your book's fresh and intelligent combination of Art and Mathematics instruction. I believe these materials would be extremely useful to teachers and students in any middle or high school alternative setting. The careful explanation of a lesson's objective, followed by the step-by-step plotting of a math embedded art exercise can only encourage students to succeed academically."
~Director of Core Curriculum, Grades, 6-12 Fontana School Dist.

(Talking about his wife's Home Schooling) "…She uses the books extensively, in fact it's the primary, and in some cases, exclusive teaching material she uses."
~ Justin Cawood

"The stories are very traditional yet fresh, original and unique.
I'm still thinking of the many lessons each contains."
~ Anastasia Kalivas

---

Comments

  on The Night Princess and Little Blossom:
Really enjoyed the night Princess…a simple yet profound story. Good work.
~ Charles Stewart, Esq.
…I really like the way you present the story by putting English and Spanish on the same page – Thanks for your willingness to share your love of reading and books with the children of our community.
~ Gail Page Co-Chair, Authors Festival Committee For The Friends of the Children's Library
"I received the books, very lovely, I can't thank you enough. My second grader enjoyed reading them to my kindergartener!!!! And they loved them, so did I."
~Laurice Challita
---
Comments  On THE RICHEST KID IN THE POOR HOUSE:
This book is about a boy who doesn't appreciate his family until he gets a hamster who doesn't appreciate him! He learns the value of what really matters, and becomes truly rich in the process!
I read Night Princess and The Richest Kid in the Poor House. They are really good. Thank you very much
~ Noah (9 yrs)
"Made me wish I was 8 years old again! Turning the last page, I almost was!"
~ Ray Bradbury, Legendary author of Martian Chronicles, The Illustrated Man, etc.
"It echoes every Parents' cry… the Story reminds me of the blessings that we all take for granted.
~ Barry Cook, Co-Director, Disney's MULAN
"The Richest Kid In The Poorhouse is a well-written and illustrated book with an important message for today's kids. The engaging story and fun-filled artwork will keep kids attention to the last page. Like all good children's stories, this one can be read on several levels – both as a simple morality tale, and as an allegory of our deeper relationship with Christ. A great book for the whole family to enjoy together. I recommend The Richest Kid In The Poorhouse highly."
~ Rev. Vikki Randall, Associate Pastor for Children & Families
"I was very impressed by this book and its message…"
~Syma Abbasi, Art Teacher
"A great moral lesson and fun to read…"
~ Dr Charles Bruce Abbott:
"…I definitely felt empathy for  Pete, and it's nice how he learned some lessons…"
~Frans Vischer, Author and Illustrator of 'Jimmy Dabble', and 'Fuddles'
"Thank you very much for the wonderful books and DVD.
I like very much."
~Christine Antonovich
"Thanks for your book "The Richest Kid in the Poor House". I enjoyed it, and was inspired by it. The story line reflects the realities and dynamics at work in the labor market today-…your story reminds us that with God we can have victory in ALL circumstances- victory in the eyes of God, in our own eyes, and in the eyes of those who really care about us, even if that victory is not necessarily what we had expected, or what the world calls victory."
~Matthew Perri (Pastor)
"…I am sure it will be a success as it held the interest of an eighty year old it will hold the interest of an eight year old. Both the illustrations and the story line were most interesting."
~Lillian Cederquist, puppeteer
"I'm 81 years old, and when I read this book it filled me with such joy that I wished I was a child again. It is so needed today. People need to hear this story – the kids and the adults."
~Wilda Voges, (at 81)
I would buy it for each of my 17 grandchildren, and great grandchildren, too!"
~Isabel Curtis, grandmother
"As a teacher and mother of five, I have read hundreds of children's stories. However I have never seen such captivating illustrations as Ruthie's. In full motion, her characters seem to come to life on the page. Their facial expressions reflect the emotions of the story – feelings common to us all in our family struggles. What I'm trying to say is: she's the greatest illustrator in the world!"
~Mary Hake, Teacher and mother of 5