Click on the images to watch the videos:
WATCH 'SOMEBODY NEEDS YOU' - The latest video from EDU DESIGNS and DaniMation Entertainment: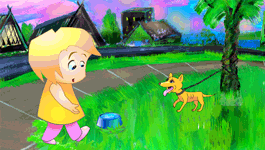 Somebody Needs You is a story about a distracted little girl who thinks she's not important. Once she sees that others around her have real problems, she discovers something new about herself!
Ruth Elliott-Hilsdon, founder of EDU Designs, created the story, music, and assisted in animation & production.

This animated short features the voice talents of the incomparable June Foray. Best known for her work on Rocky and Bullwinkle in the early 60's, and a myriad of cartoon characters over the years, June created the annual Annie Awards in 1972 to recognize the contributions of individuals in the Animation Industry. "June lent her voice to our story as a personal favor to me. " - Ruth

Dani Bowman is the director and chief animator of this project. Dani founded DaniMation Entertainment (formally Power Light Animation Studios), of La Cañada, CA, at the remarkable age of 14. As an individual with autism, she has a passion for public speaking, animation, and teaching the arts to others on the spectrum. After Dani agreed to work personally with Ruth on this film, she knew she had found a partner. "She has been the prime mover in bringing this work-of-love to life." - Ruth
Submitted to the Annie Awards, and featured at WonderCon Los Angeles on March 26th, & San Diego ComicCon in 2016.