THE NIGHT PRINCESS is an original fable that encourages us to see that the way we treat anyone, is the way we treat everyone!
REVIEWS:
With tears streaming down his face, RAY BRADBURY declared,
"It's BEAUTIFUL!"   
VAN DYKE PARKS said: "I loved your show, too. Terrific animation to a great tale. The music does justice to it all!"
CHRISTINE BARRY, Librarian at Sun View Elementary said, "…the "lessons" in these books are something valuable to all of us. You seem to have a real handle on how to "entertain" children through books, yet there is a deeper message that speaks to them. I would just hope that you keep up your creative process and keep offering up quality books with good messages for our children." 
---
The story of THE NIGHT PRINCESS
is as gripping as it is mysterious. What do you think happened to The Night Princess? The ending is up to YOU.
Here are questions for discussion with students:
What do YOU think happened?
Was she still alive?
What did the king do?
Did he learn a lesson?
What lesson did he learn?
---
Unfortunately the Book is temporarily SOLD OUT till we receive more funds.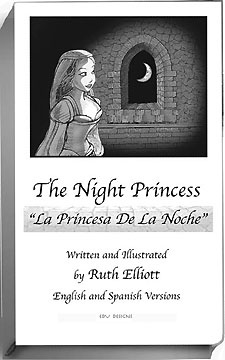 Please donate so we can print more.
THANK YOU.
Ruth Elliott-Hilsdon,
Founder of Edu Designs and GoMommyGO®