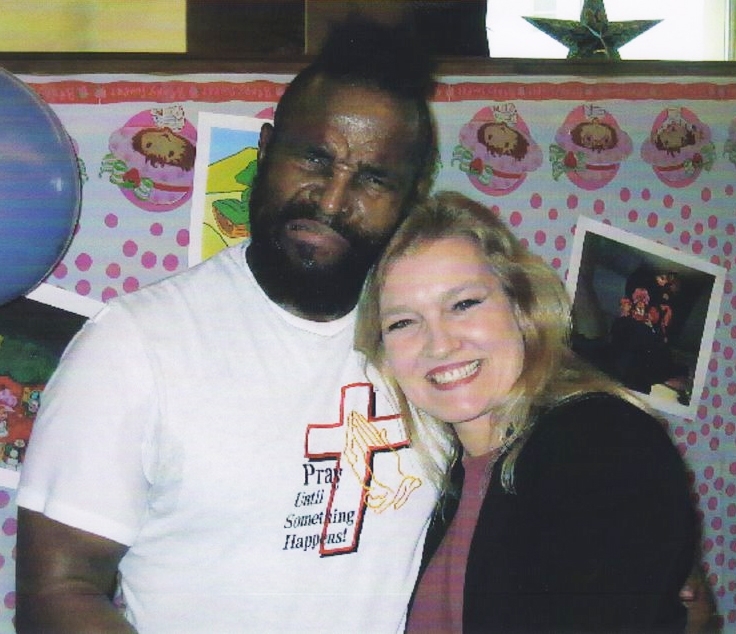 Mt. T. and Me in 2003!  
When my son Jon was 11 years old he wrote a letter to Mr. T after seeing 'The A Team' on TV.   Mr. T wrote him back a long personal letter, telling him to study hard in school, stay away from drugs and alcohol, take good care of his body and trust in the Lord!
I was so impressed with his kindness and generosity to take the time to write him!  Somewhere in the recesses of our garage I still have that letter.
Years later in 2003 I was working at Cartoon Network and got to meet Mr. T. personally.  I thanked him and told him how much his letter had meant to my son, who had taken it to heart at a time when he was receptive.
As soon as Mr. T. heard I had 7 kids he couldn't stop telling me all about his mother who had 12 kids! He was thrilled to share with me how she kept him on the right track by consistently being a source of encouragement, wisdom and strict discipline to all of them.
Such enthusiasm and energy! He went on to share how he was so happy to be alive after overcoming cancer, and proud he had gotten his hair back. He kept pointing to the top of his head and rubbing his hair, saying, "Look at that hair!"  You can read more about the amazing struggles Mr. T had to overcome here.
I was so happy I got to meet him.  What an inspiration he is, and proof again of the powerful impact a mother can have on her children.
I made this little sketch of how I managed to get through it all when my kids were little…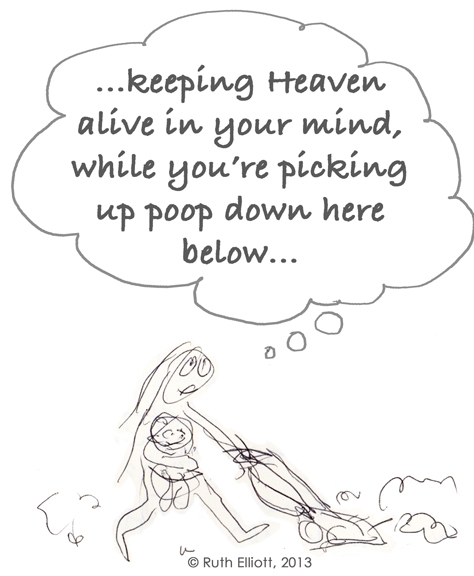 How can we teach our children to find happiness?
…and learn to be content?
The simple answer is: By OUR example
Be in the present…
Be joyful.
Need to get your kids to help you? Check out my free Illustrated Behavior Charts, so they can share in the 'Family Service', too!
 

Ruth Elliott Director, Edu Designs director@edudesigns.org